The fundamental use of social media for civil obedience is undeniably effective. People who have an access to internet or have any kind of mobile phone can visit these kinds of websites (Facebook, Twitter, etc.) and receive information about any protest that is happening near his/her area. With the personal messaging system, people can connect to others privately about a protest. For example, in Gezi Park protests, social media has been widely used by the protesters to organize with each other. That is the reason why the social media has been seen as a problem by the government.
Although the online organization is important for a bigger scale of a protest in order to make revolution, it is surely not enough. People also need to act on the fields rather than just sitting at their computers and tweet. The only effective use of social media is to be organized in these times. Of course it would be absurd to claim that all of these were in vain. These attempts surely made some changes in the people's minds. We can see this with the increasing participation of apolitical youth of Turkey to the protests during Gezi Park. The news sharing process by the protesters and activists about these events while there were no accurate information in the mass media surely showed how people care to inform other people about the realities that are not shown.
However the effective these protests and organization by social media, they will never be enough in making a revolution on a either national or global scale. Because of the capitalist vicious circle, that always needs people to buy the products that are claimed to be really needed by the consumers, people are always paralyzed to buy from these products of imperialists. The very imperialists that are protested in these kinds of protests are not only yielded but also gain more advertisement. In order to put a stop to the vicious circle of this system, people need to make compromises of themselves. A global movement that is organized with the use of social media surely would put a stop to this kind of unconscious consumerism. People need to promote anti-capitalist trade systems like barter system that was used pre-monetary societies.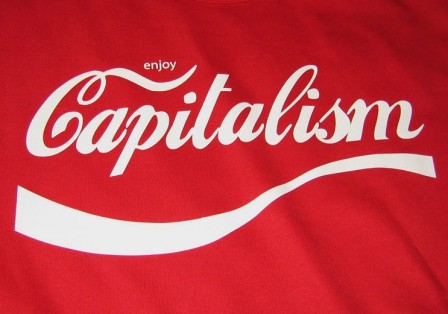 In order to make a revolution, the forces of imperialism should be prevented. For now there is not much example for an alternative way of bartering. The only valid example I can give to this system is the website freecycle.org which has a motto "changing the world one gift at a time" on its main page. There are local groups for each area that are involved in this website with the help of Yahoo groups. When someone has a need for any item/product, s/he can open a topic in these groups or vice versa. Seemingly, this system works well for Turkey example. However, the more people should know about this system so it can work better and/or more of these kinds of websites can come up. In conclusion, even if this approach may seem pessimistic, the protests are not enough for a revolution; in order to achieve it people from every corner of the world should reject capitalist system and promote more humanist approaches. If we do not break this vicious cycle, every problem of our society will continue to happen repeatedly in our future.
Sources:
For Istanbul example of freecycle group:
https://groups.yahoo.com/neo/groups/freecycleistanbul/info